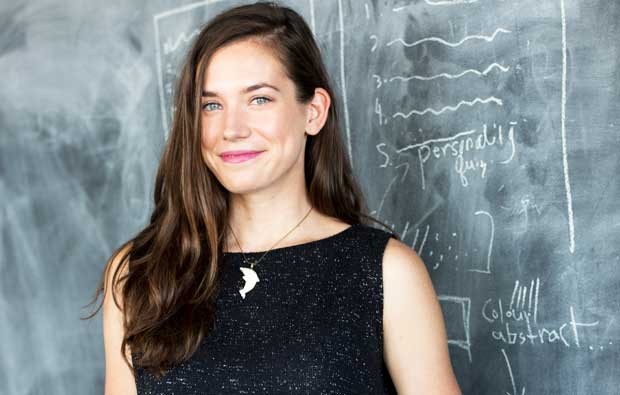 Hilary Bergen is a SSHRC-funded Ph.D. candidate in Interdisciplinary Humanities at Concordia University in Montréal where she studies screendance, posthumanism and media history. She is also a trained professional dancer who holds a B.A. Honours in Dance from the University of Winnipeg and the School of Contemporary Dancers. She has an M.A. in English Literature from Concordia University, where she also teaches part-time in the English Department.

She has published work on the feminization of digital assistants (Word and Text), rotoscoping as dance notation (Screening the Past), the use of military technologies to capture dance (Culture Machine) and the spectacle of female disembodiment in the choreography of fin de siècle dancer Loie Fuller and contemporary dance artist Freya Olafson (Archée), among other topics.

Hilary has given invited talks for NYU Tisch, Dazibao Gallery (Montreal), Hunter College's Virtual Reality Symposium (New York), RIRH Regards Hybrids Screendance Symposium (Montreal), the MilieuXbauhaus Festival, the 10th Annual RéQEF Masterclass on Feminism and Technology (McGill), and she delivered the pre-show talk for Maribé's 2019 dance work, BESIDE.

She has also presented her work at over a dozen conferences including the Dance Studies Association, The Society for Literature, Science and the Arts, The Society for Cinema and Media Studies, and the Spiral Film and Philosophy Conference. In 2019, she was a selected participant at the Princeton-Weimar Summer School for Media Studies (Germany) and she has also presented at the International Annual Conference on Beauty (Oxford, England).

She has been co-facilitator of Montréal Danse's annual Choreographic Workshop (with Kathy Casey) since 2018.

Hilary teaches in the English Department at Dawson College, where she is a member of the AI-Themed Teaching Community of Practice. She has been interviewed about her research by CBC, Le Devoir, Quebec Science, CKUT Radio and The Lady Science Podcast.

In her dissertation, Hilary is working at defining a posthuman theory of dance.
CV (updated September 2021)